Volunteers are worth weight in gold during tourney time
By Tom Shanahan
STAFF WRITER
February 19, 2002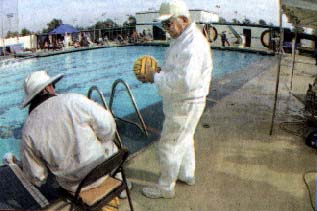 Dick Draz (right) volunteers his time by working as a tournament director for boys and girls water polo and swimming. Earnie Grafton/Union-Tribune.
A man supports his son's wrestling career through four years of high school. He often volunteers for tasks that allow the team's coach to coach. After all that work he deserves to fade into the background upon his son's graduation.
Not Dick Malliet.
Since 1995 ­ two years after Malliet's son, Sean, graduated from Poway High ­ he has served the CIF-San Diego Section as tournament director for the Masters meet, an intense competition that qualifies the top three in each weight class for the state meet.
Malliet will put his business as a building contractor on hold this week to stage the Masters meet Friday and Saturday at Carlsbad High.
A man coaches high school athletes in swimming and water polo for 29 years. He helps kids improve skills and become productive citizens. He wins seven San Diego Section team titles along the way. With that résumé, he deserves to hang up his whistle and step aside.
Not Dick Draz
Since 1995, the retired Crawford swimming and water polo coach has served year-round as a section tournament director: boys water polo in the fall, girls water polo in the winter and boys and girls swimming in the spring.
Draz will oversee the girls water polo semifinals in Division II today and Division I tomorrow at the Jewish Community Center. He'll be poolside again for the finals Saturday at UCSD's Canyonview Pool.
High school sports depend on people like Malliet and Draz to help stage important events.
"Unsung heroes," is how San Diego Section commissioner Dennis Ackerman describes them. "Those are two quality people who give so much behind the scenes to put on a quality event."
Malliet, 61, and Draz, 71, remain involved because they enjoyed their time at the center of their sports.
A tournament director is much like a referee. If athletes, coaches and fans don't notice them, they did their job. When they're told, "This event runs itself," it's a high compliment.
Translation: There were no headaches to sort out in the heat of competition.
"There are times when you get fed up with certain things or certain people," Malliet said. "But that's part of everything in life."
Added Draz: "This is the biggest tournament of the year for these kids. I want it to be a quality event. If something goes wrong, then we have to fix it."
The roles filled by Malliet and Draz prompted the local CIF office to adopt a policy this school year of appointing tournament directors for all sports. They're viewed as volunteers, although they do receive a small stipend. Ackerman said Malliet and Draz earn "pennies an hour."
Malliet's $300 stipend last year went toward paying a $400 phone bill he rang up in February while organizing the Masters. Ackerman estimates it would cost the San Diego Section about $4,000 to hire a professional to perform Malliet's job. Draz's roles would require about $7,500.
Those costs would bankrupt the local CIF budget.
Malliet's dedication to wrestling isn't without some irony. Basketball and baseball were his sports growing up in Bear Creek, Wis.
He expected his son to follow the old man's path when Sean made several youth league all-star baseball teams. But then Sean joined Poway's nationally recognized wrestling program as a freshman. By the end of the season, he told his dad he considered wrestling a year-round sport and wouldn't be trying out for baseball.
"I was disappointed, but I didn't say anything," said Malliet, who soon shared Sean's passion for wrestling.
Now the old basketball player likes to joke, "The better use of a basketball floor is covering it with wrestling mats."
Sean's senior year, he won the 189-pound title at the Masters meet. Among the friends father and son made along the way were Rich Salo, who won the 132-pound Masters title in 1993, and his father, Dick Salo, who continues to serve as Poway's public-address announcer as well as for the Masters meet.
"The most important thing is to find a lot of good volunteers," Malliet said. "I'm fortunate that Poway parents are very supportive. I've got a lot of help this year from Vista's parents and Carlsbad's parents, too."
Draz's motivation is two-fold.
"One, it keeps me young being around all these kids," he said, scanning the scene around the Mesa College pool Saturday as a quarterfinal match took place between Mt. Carmel and Poway. "A lot of my former athletes are coaches or referees. When their kids take up the sport, I feel like they're my water polo grandchildren."
The other reason is that during Draz's long career ­ one in which he was honored as the national high school swimming Coach of the Year in 1986 ­ he agonized as funding for aquatics fluctuated in the San Diego Unified School District. Over the years aquatics have been cut, reinstated and threatened with the ax again.
"I want to do what I can to keep these sports around," Draz said. "I'll fight it to my death if they try to cut swimming or water polo."
What Malliet and Draz share is a desire to help a sport they love, even while remaining behind the scenes.
Copyright 2002 Union-Tribune Publishing Co.