New museum is car-friendly, free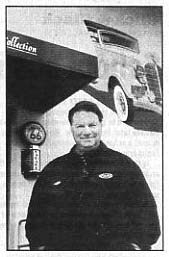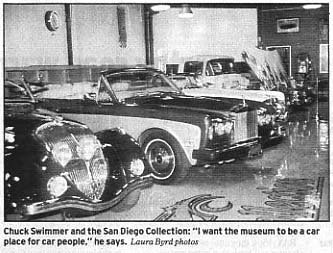 Mark Maynard
WHEELS EDITOR
San Diego Union-Tribune
May 31, 2003

Chuck Swimmer was 23 years old with $65 in his pocket when he found his way to San Diego from Canton, Ohio. He took a job in construction and the next year started his own Charco Construction.

As his business grew, so did his appreciation of all things with tires and internal combustion engines.

Swimmer rides motorcycles and collects them. He enjoys a good street rod, has an eye for the unusual and unique, and is one of a handful who have a standing invitation to show at the Pebble Beach Concours d'Elegance every August in Monterey.

He's also the motivator behind the concours exhibit at the annual Chrysler Classic Speed Festival on North Island.

And now, he's putting his reason to work into a proper environment.

He bought a 10,000-square-foot telephone company building in the 7200 block of El Cajon Boulevard and turned it into the ultimate car enthusiast's garage and showroom. The San Diego Collection is the newest museum in the county and reflects Swimmer's varied interests.

He calls the show space an "an extremely car-friendly environment," with 25 vehicles on view (some of which are for sale), a buy-sell area for automobilia and a professional photo area.

The show cars include a 1952 Aston Martin DB2 Vantage, a 1938 Peugeot Darl'mat roadster (raced at Le Mans), a '67 Morgan and a '34 Ford hot rod (a chopped five-window coupe with a 454-cubic-inch Chevy V-8).

Just off the main floor is a mechanic's area with lift that shares space with a full kitchen, marble-top table and chairs, artwork and big-screen TVs.

The museum can be rented for parties, meetings or weddings, and car clubs are encouraged to hold meetings there. There's also a six-bay detailing shop with staffers experienced in what it takes to have a concours-prepped vehicle.

A gift shop carries exclusive items, such as the Mille Miglia line of clothing and watches and Momo sunglasses.

There is no cost to view the cars.

"I don't want to charge admission," Swimmer says. "I want the museum to be a car place for car people."