Marla Bennett Memorial July 21, 2003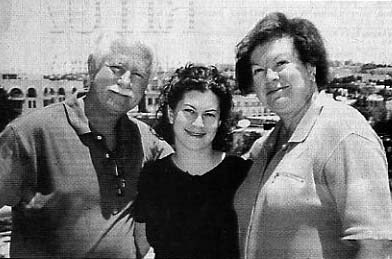 Marla Bennett, shown here between her parents Michael '60 and Linda Bennett in Jerusalem last June, was killed in a bombing at Hebrew university last July 31. A commemorative tribute to the 24-year-old San Diego woman will be held at 7:30 p.m. Monday on the field at the Lawrence Family Jewish Community Center, 4126 Executive Drive; (858) 457-3030. Among featured guests at the free event will be Holocaust survivor Gerda Klein and Peter Yarrow of Peter, Paul and Mary.
Staying true to Marla's faith
Parents in anguish turn to Yom Kippur and the High Holy Days to try to find meaning in the incomprehensible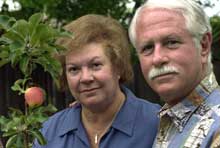 An apple tree grows in honor of Linda and Michael Bennett's daughter, who was killed in a bombing in Jerusalem. Jerry Rife / Union-Tribune
By Jeff McDonald
STAFF WRITER
September 13, 2002
The letters and cards mostly from strangers are neatly bundled, by the hundreds, then stacked in boxes in a spare room.
Michael and Linda Bennett hope to answer them all, one day, when they are more composed, when the wrenching wound of losing their youngest daughter to a terrorist bomber is not so fresh in their hearts.
For now, it is their faith, their friends at their synagogue, Temple Emanu-El, and the promise and duty of these High Holy Days pushing them forward.
Still, six weeks after San Diego native Marla Ann Bennett was killed on the afternoon of her final exam at Hebrew University in Jerusalem, the deep-rooted Jewish family from Del Cerro is struggling to process all that has been taken away.
Come sundown Sunday when the tenets of Yom Kippur ask them to reflect on their lives, atone for their transgressions and extend forgiveness to those who have harmed them, the Bennetts will lean more heavily than ever before on the strength of their convictions, the guidance of their rabbi and the memory of their daughter.
"I have not come to anger," said Linda Bennett, who only in recent days has begun to muster some sense of normalcy. "I know there are two sides to what is going on in the Middle East."
The 24-year-old graduate of Patrick Henry High School, who moved to Israel two years ago to pursue an advanced degree in Judaic studies, was due home for a monthlong visit two days after she died.
By many accounts, Marla was an extremely thoughtful woman who routinely put the needs of others ahead of her own. Friends said she kept lists every day of people to call, so she would not forget to check in on those she cared about.
She was diligent about remembering people's first names, and regularly volunteered at food banks, homeless shelters and other social service agencies in whatever city she lived.
But it was her dedication to Judaism that set her apart from most others, her friends said. That love and concern for her adopted homeland is what kept her in Israel, even though she was keenly aware of the danger.
The Bennetts remain incredibly grateful that they followed through with their trip to Jerusalem this past June. They had thought about canceling, figuring that Marla would be in San Diego in early August. It turned out to be the last time they saw their daughter.
Michael Simon of Long Beach, who hoped to marry Marla one day but instead accompanied her remains to San Diego last month, returned to Israel unafraid just a few weeks ago, the Bennetts said.
Their older daughter, Lisa, has taken the death of her sister especially hard, they said, although she recently started working again.
The grieving parents said they think a lot about the political forces that conspired to kill their daughter, what it was that motivated an Arab extremist to plant a bomb in the cafeteria of a university that offers an education to young people from cultures around the world.
Nine people died that day, including five Americans. Nearly 100 others were injured, many of those seriously. The explosion was deliberately planned for a busy, lunchtime gathering place, seemingly to exact the most damage possible.
In the end, Michael Bennett said, there is no explaining the desultory, scattershot carnage. There is only the ugly, inescapable conclusion that the bomber succeeded in promoting widespread pain and sorrow.
"I'm searching for meaning," he said. "There's not much you can do that would protect yourself. It happened to be Marla."
Only later did the war-weary father learn that his daughter's study partner was leaning down, rummaging through her nearby book bag at the very moment the bomb went off.
"That's why she's alive," he shrugged.
An insurance company executive who finally returned to his office late last month, Bennett said the exercise of going to work has helped him take his mind off the loss of his daughter.
Even so, he said, despair and anguish continue to lurk just below the surface. The slightest reference in everyday conversation, or a simple thought or memory can prompt his eyes to well up or his hand to reach instinctively toward his wife's arm or shoulder.
Linda, too, is trying to ease back into the life of community volunteerism she cultivated before Marla was murdered. She's working on a new column for a local Jewish newspaper and is starting to make her way about town once again.
At home, she weeds through the piles of mail that still arrive daily, setting aside the most poignant messages for her husband to see when he gets home in the afternoons.
She suspects the letter writers found their address somewhere on the Internet. She hopes the package of 1,000 acknowledgment cards she bought the other day will be enough.
The most emotional notes come from people who say they were so profoundly affected by having known or read about Marla, that the young woman from San Diego literally changed their lives.
"It's made people become better," Linda Bennett said, her voice alternately wavering between calm and cracking. "Let's hope that will last."
Rabbi Martin Lawson of Temple Emanu-El, who cut short his vacation and hurried back to San Diego when he learned about Marla's death, said her spirit and kindness will loom large in the Yom Kippur sermon he plans to deliver Monday.
"That is the remarkable part of Yom Kippur and what the Holy Days are all about," he said. "The word teshuva literally means to turn your life around."
The concepts of self-reflection and atonement will be especially important this Yom Kippur, the Bennetts said. But the part that pushes the faithful to forgive people who have caused them harm may prove difficult.
Both Michael and Linda said they do not blame Arabs alone for the bloodshed that has rocked Israel these past two years, and stolen so many lives. Marla constantly told them that both sides in the age-old dispute need to compromise to ever achieve a lasting peace.
They said Arabs must repudiate violence as a tool toward political ends, especially extremist groups like Hamas, which claimed responsibility for the bombing at Hebrew University, among many others.
Israel needs to withdraw from the settlements and agree to borders that would create an independent state of Palestine, they said.
"Marla would not have approved of me condemning all Arabs or all Palestinians," Michael Bennett said. "She might have understood my hating Hamas and people who put bombs in cars."
Two weeks after the July 31 cafeteria bombing, Israeli forces arrested five Islamic militants on suspicion of carrying out the attack, including a painter who officials say planted and detonated the explosives.
"Him, I can hate," the father said. "But it doesn't go much beyond that."
Balancing the rules of religion with the realities of human emotion can be difficult for anyone, Lawson said, let alone a family that has lost a child to terrorism.
But the rabbi nonetheless counsels his congregation not to give in to anger and vengeance. He will do so again Monday, when he talks about Marla in his Yom Kippur sermon.
"She was an advocate for peace and for justice," Lawson is quick to say. "If anything good can come from her death in the new year, it's for people to work for those two forces."
Even now, the telephone at the Bennett home rarely stops ringing for more than a few minutes. Friends and acquaintances who put off visiting immediately following the bombing are just now stopping by to check on the family, deliver meals or to otherwise help however they might.
Over the past six weeks, Linda has barely had to perform any of the routine chores required to maintain a household ­ shopping for groceries, dropping by the bank or cleaning up around the house.
"We had so many people over for the longest time," she said. "I still don't know where all that food came from."
On the 10th day of this Jewish new year, the Day of Atonement that asks so much of faithful Jews, the Bennetts will stand at temple alongside hundreds of others, fasting and praying and looking inward.
In those moments, Michael Bennett said, he will dwell not on the unthinkable loss he has endured these past weeks, but on the hope and promise Marla seemed to instill in so many of the people she met.
He will remember the cards and letters from all over the world ­ people who sent their condolences and told stories about how Marla inspired them to work harder, to help others and to always practice peace and understanding.
"I may not live to see it," he said. "But these young people ­ the way her death so affected them ­ when they are in positions of leadership, who knows what's going to happen."
----------------------------------------------------------------------
Jeff McDonald: (619) 542-4585; jeff.mcdonald@uniontrib.com