A growing hobby
Gardens and trains go together in sunny San Diego

The San Diego Union - Tribune; San Diego, Calif.; Dec 22, 2002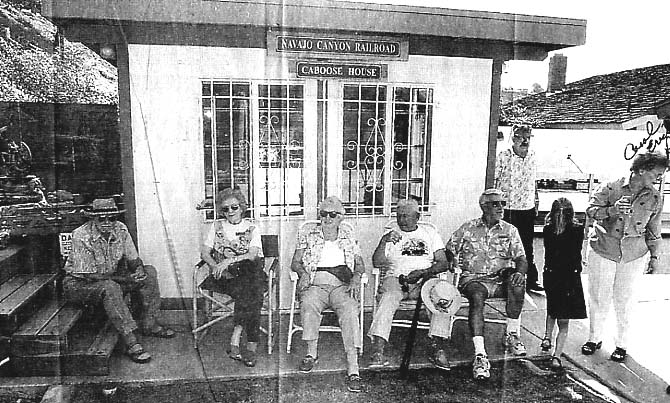 A crowd gathered at Carol Sue and Gary Peterson's home recently to watch the trains go by. The Petersons hosted a monthly meeting of the San Diego Garden Railway Society. Carol Erickson Peterson '62 is on the right. Nancee E. Lewis/Union-Tribune photos
By John Wilkens;

One day, a baffled neighbor said to Gary and Carol Sue Peterson, "I didn't know you could hear the trains up here, but I swore I heard one last night." The Petersons chuckled.

They live on a hill near Del Cerro, miles from the closest railroad tracks. You can't hear that train in the neighborhood.

But you can hear the Petersons' Navajo Canyon Railroad.

It's a model set up in the back yard, out where the fruit trees used to be. Train cars roughly the size of bread loaves roll past dwarf pines and miniature towns. They snake through a tunnel, out over a curving wooden trestle.

Steel wheels go clack-clack-clack. Brakes screech. Whistles blow. No wonder the neighbor was confused.

The railroad in the Petersons' yard is unusual but not unique. There are about 70 such layouts in the county, according to officials with an enthusiasts' group, the San Diego Garden Railway Society.

They run the gamut from simple ovals set up in a corner to elaborate tracks covering hundreds of feet, complete with waterfalls, bridges and switching yards.

"San Diego is right up there in both number and quality of garden railways," said Marc Horovitz, editor of Garden Railways magazine.

Yes, the hobby has its own magazine. It has national conventions, too, and specialists who will build your railroad for you if you don't have the time or the inclination.

But mostly it's a hobby that rekindles the fascination with trains many Americans had when they were kids and marries it to an adult passion for landscaping and home-improvement projects.

"There's just something about trains," said Laura Rey, the society's membership director. "I'm not sure what it is, but it's universal. People are drawn to them."

In the Peterson family, it was Carol Sue who got the bug early. "I was an only child, and when I was 5 or 6, I wanted a baby bassinet and a train," she said. She got both.

About four years ago, when her husband retired after 40 years as an engineer with the gas and electric company, she didn't want him bored and underfoot. They looked into model trains as a pastime.

The first one was a holiday train, chugging in a circle around the Christmas tree. Now, more than $10,000 later, they have the railroad in the back yard, a nearby building to house Carol Sue's collection of 60 cabooses and a neighbor who thinks he's hearing things.

"You get started," Gary Peterson said, "and you just keep going."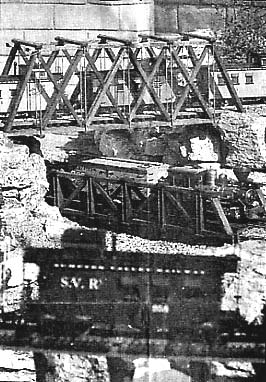 Trains run in all directions at the Navajo Canyon Railroad, the backyard layout of Carol Sue and Gary Peterson. Nancee E. Lewis/Union-Tribune photos
Larry Rose remembers when being called a "rivet-counter" was an insult in the world of garden railroads. It meant you were a troublemaker.

The trouble the La Mesa architect made was to suggest the hobby could be better, that the model trains should look more like real railroads (i.e. with the correct number of rivets) and less like toys.

"It doesn't have to be just these plastic pieces running out there in the petunias," he said. When he wrote articles to that effect in hobby magazines, he got hate mail.

Now, some 14 years later, Rose is still a rivet-counter, proudly. And it's not the insult it used to be.

Realism has taken root in these garden layouts, right alongside the dwarf Alberta spruce trees. With the hobby booming -- it's the fastest-growing segment of model railroading -- details matter.

Rose's layout is one of the most admired in the country. It's been featured twice on the cover of Garden Railways Magazine. The track runs about 300 feet, with another 300 under construction.

"The whole point of model railroading is that you're never done," he said. "You're always changing something, making it better. You tear stuff out because you don't like how it looks anymore."

When the national convention was in San Diego in 1990 -- it also was here two years ago -- people were lined up outside his house for a chance to see the Rio Verde Western railroad.

"It negotiates the natural terrain of the yard, so it's engineered like you would a real railroad," he said. "If it crosses a gully, there is a bridge. If it needs a tunnel, there's a tunnel."

Like a lot of modelers, he has a theme to this railroad. His is patterned after an Arizona short line, circa 1929-1940. All the buildings and other accessories are chosen to fit that period. The trains have specially made Rio Verde decals.

He runs at 1 to 20 scale, which means that 15mm on the model equals 1 foot on a full-size train. There are numerous scales and gauges in the hobby; to the uninitiated, it's more complicated than the federal budget.

Rose started building his railroad in about 1989, but he traces his love for trains to his childhood. His mother always told him the first words he spoke were "choo-choo."

He had model trains as a boy, with a layout on a piece of plywood that could be raised and lowered in the garage with pulleys. The trains were put away when he got drafted and served in Vietnam.

When he came home to San Diego, he migrated to the tiny trains at the Model Railroad Museum in Balboa Park and the real trains at the Pacific Southwest Railway Museum out in Campo before discovering garden railroads.

"I walked into a local hobby shop and saw these model trains that could be run outdoors and my imagination started to spin," he said.

In the early days, he said, he had to take the locomotives and other cars apart and rebuild them to meet his need for realism. He railed against manufacturers of "toys."

But that's changing. "The best stuff that's ever been done is being done right now," he said.

Laura Rey could always tell when her husband, Tom, had a bad day at work as a police detective. "He'd come home, not even take his suit off, and go out in the yard and run the train," she said. "It was a great stress-reducer."

Tom Rey is retired now, which leaves him more time to tinker in the yard. (And time to be president of the local garden railway society.)

The railroad in the Reys' Clairemont yard is modeled after the town of Kaweah, a utopian 1880s village not far from Visalia, where Tom grew up. The layout has the Kaweah post office and landscaping that mimics the Sierra Nevada foothills.

Tom Rey builds his own rail cars and miniature buildings, and his porch lamps are tinted to resemble moonlight for evening train runs, but he's no rivet-counter. One of the figures in the layout's hobo village came from a Nativity set. One of the buildings is actually a birdhouse.

"People sometimes give us a hard time, say the birdhouse is whimsical and not authentic," Tom said. "Well, there's whimsy in real life, too."

Laura wasn't thrilled when her husband suggested putting train tracks in the back yard. "He had to negotiate real hard to get this railroad," she said. "I needed it to be pretty."

He showed her some pictures of railway gardens in England, where the hobby first flourished, and she was sold. Now she has her own trains, and the trains sometimes have names, like Penelope or Delta Queen. This is fairly common in the hobby.

Laura said she likes being in the garden railway society because "you feel free to just drop in on each other. It has given many of us a sense of community." She grew up in the Midwest and missed that sense in California.

The club, which is celebrating its 15th anniversary this year, has about 290 members. (More information is available at the group's Web site, www.sdgrs.com.) They meet monthly, usually at someone's house, where trains are operating in the yard. People bring their own trains to run on the tracks.

They stand around and talk about track maintenance (small paint brushes work well for flicking away dirt) and the merits of running the trains with batteries and radio controls. They plan field trips to train museums.

Club members recently finished a garden railway at Walter Andersen's Nursery in Poway. There is another layout at Children's Hospital.

The hobby attracts people of all ages, Laura Rey said, although those who are middle-aged or retired (and have the time and money) predominate. Whole families sometimes join. In some households, one spouse loves trains and the other loves gardening, so both are happy.

It gets expensive. Mike Pflub, who builds model railroads as a business, said a locomotive with all the bells and whistles can cost up to $12,000. A good one will run about $500, with second-hand models even cheaper.

Bob Treat, whose mountain-themed railroad in Normal Heights has been featured on the Home and Garden TV channel, said you don't have to spend wildly to get started.

"If you don't have to have the latest stuff, a couple thousand dollars can get you set up pretty nicely," he said.

Like a lot of other enthusiasts, Treat struggles to articulate his passion. "There is just a fascination with trains," he said. "Part of it's the romance of the rails, transporting yourself to another place or time. You're escaping reality for a short time."

Until the neighbor calls, wondering what that sound is.

I am a Master Model Railroader with the NMRA (National Model Railroad Association), and a Director of the San Diego Division of the NMRA, organizing conventions and local events within the hobby. I have written dozens of articles for the national hobby press on the subject, and have contributed models to the Balboa museum. I also work with the Boy Scouts helping them to earn their RR merit badge by building Ntrak modules (which have been seen at the Del Mar Fair and other displays). You can see samples of my personal layout and those of the Boy Scouts at these three sites:

Thanks,
Rodger Gredvig, '64