2003 Southern California Wildfires Affect Colts
John
Here is a shot of the firestorm in the hills above San Bernardino. I just got this via Jim Console: "I heard from two of our classmates that were close to the Southern California Fire Storm. -- Nelson Moore and his wife Jeannie, and Don Cummings and his wife Marsha. Both families survived the fires and by the grace of God their homes have been spared. They live in Harbison Canyon, which is close to Alpine. That area was one of the hardest hit by the wild fires. President Bush was there yesterday (November 4, 2003) to see the devastation that was left."

Hi John,
It's good to see that you're keeping us in good contact with the wild fire news. My husband Sonny and I live in Eucalyptus Hills, on Hi Ridge Rd. in Lakeside. We left our home only minutes before the fire hit. Not much time to save anything except your lives. We left at 4:30 AM Sunday (October 26, 2003) and returned about 9:30 AM. We had to sneak up there because they were not letting anyone in. Much to our surprise our home was still standing. We lost our front door, part of our garage and part of the deck and 3 skylights. Our neighbors were not so lucky. The neighbors to the north of us lost their home. They were in their 70s. There were 21 homes lost in Eucalyptus Hills 14 of them were on Hi Ridge. The rest of Sunday and Monday we put out little fires on the 3 properties that connect to our and chased off the looters. I hope that everyone else is okay, I did hear that Chuck & Linda Simon '61 lost their home in Alpine on Peutz Valley Road. My old house in Peutz Valley was across the road from Congressman Duncan Hunter's house and they both went up. From what I understand there isn't much standing in Peutz Valley, Alpine. Keep up the good work. I'll see you at the next Crawford get together.

Here's photo from my street in Alpine. It didn't get my house but what a scary scene.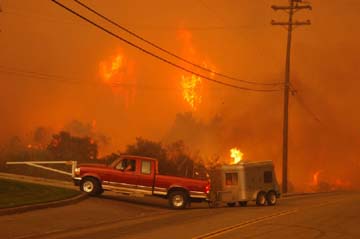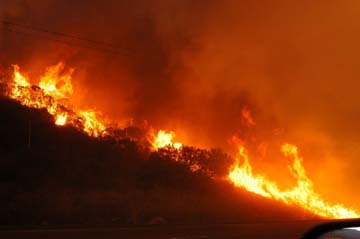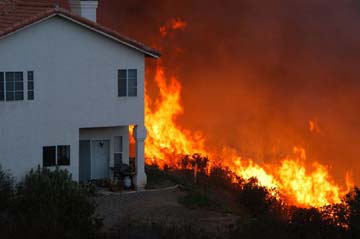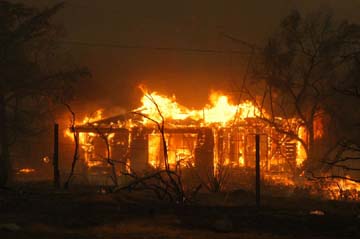 Hi John...thought I'd contribute my 2 cents worth. As you might know, I have been a member of Sheriff's Search and Rescue for nearly 20 years. I spent the first three days of the fires in Lakeside, Wildcat Canyon, Alpine, Harbison, Valley Center, Lake Henshaw. etc. Here are a few photos from day one. One shot of is me. My partner and I came to a house that was just starting to burn. I handed him my camera and grabbed a garden hose. It had pretty good water pressure, so I began knocking down the fire under the eves of the house until I came around the corner (see photo) and realized just how involved the back side was. At that point, a garden hose was of little use. Incredible few days.

Hi John,
Just to let you know, Dottie Johnson Vargas '60 lost her Scripps Ranch home in the fire.

John
My sister Linda Biehler'63, and her husband Chuck Simon '61 live up in Puetz Valley in Alpine and also lost their home. BAD FIRE...

Hi John,
I am living in Jonesboro Arkansas and have been following the news on the Southern California Wild fires. I heard from another classmate that Linda and Chuck Simon class of '61 were among the many that lost their home in Alpine. I am concerned about a couple of my old friends from the class of '61. One is Nelson Moore who also lives in Alpine and Don Cummings that lives in Harbison Canyon. If you get any information about them please let me know.

Does anybody have word about Donna Koerner Kruggel'64? She lives in Poway and her phone is disconnected. I'm worried that she may have lost her home too. Any info is appreciated.


(Good news, Susan. After an exhaustive web search that involved looking at "before and after breast augmentation", I was able to find a phone number for plastic surgeon Dr. John Kruggel. His secretary assured me that The Kruggels and their home are "just fine". You can thank me later. I heard from another source that the phone system in Poway was down for quite a while -- JF)





My husband Rick Gordon and I evacuated Alpine Sunday afternoon. Our neighborhood (Alpine Highlands) was untouched except for power outages. Please let us know if there is anyone from Crawford in the Alpine area who needs assistance.
We evacuated Lake Arrowhead on Sat. Oct. 25. Are hoping to return by Nov. 8 or so. Downed trees and power lines are being repaired. We may get to go up and look for a 4 hr visit in the next couple of days. Got out with our neighbor's dogs and our own little sled dog team. Spent the first night camping out with other "animal folks" at the Home Depot in Redlands! Then came to stay with Harry's son, daughter-in-law, and our granddaughter just north of LAX. All reports are showing that areas W/NW of Lake Arrowhead are intact. We are extremely thankful for the great work of many firefighters. Good Luck to those of you with losses in San Diego County

Lela Kerth '60 and Harry Schlitz, and TEAM,
Zack, Squaw, Jake, Mary, Star*, and Su!
Mountain Mushers Educational Dog Sled Team



Dear John,
I realize that many people have lost their homes in the recent fire.......and just wanted to pass on information that I have a clean and serene home for lease in the Del Cerro area. 3 bedrooms, 2/14 baths, laundry room, approximately 1800 sq. ft. It is available now, $2275.00 month. Near schools, shops, transportation. Quiet and private. If anyone knows of a family that may be interested please contact me directly. Thanks.