The Colts Meet the Bears


Ron Kroepel, Darlene and Bob Johnston, and Dave Grear
Ron Kroepel, Dave Grear and Bob Johnston '63 – along with Bob's wife Darlene – spent five weeks in Alaska on their latest adventure. They were on the road from May 24th to July 1, 2002.

"I'm sure we drove 10,000 miles because we drove around Alaska, too, and it must be 5,000 miles up there," Dave said when he and Ron returned. Dave and Ron drove together, camping most of the way. Bob and his wife met them in Alaska and they toured together, going as far north as the Arctic Circle.

Dave was surprised at the lack of animals. "Maybe they were farther out than we were," said Dave, "but we didn't see many animals at all."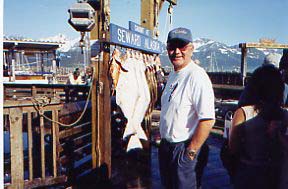 Ron Kroepel and fish
One big exception came when Dave and Ron nearly ran over a newborn moose. As they were passing a parking lot in Homer, Alaska, a moose loped off in front of them, leaving a warm pile of quivering baby by the road. California guys Ron and Dave slammed on the brakes and went to rescue the baby. They called rangers. They waved off traffic – not a hard thing to do in Alaska. They enlisted the help of a friendly passer-by. The rangers told them that a mother moose will often drop her calf, then go off to feed. They always come back for them, he said. So Ron and Dave moved the little guy from the road and waited for Mom to return. Apparently she didn't want to meet up with a couple of Colts, so they finally left.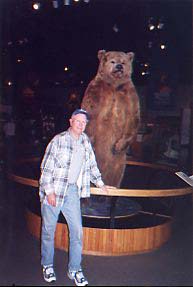 Ron and stuffed bear
The only bears Dave saw were in museums, but Ron took a plane to bear country and came back with a nice close-up of a fox, and several distant shots of bears.
Planes must be the way to go, as Ron and Dave took a ferry to Kodiak and were stranded on that little island for a week while the ferry had to be replaced. They met some really nice people there who took one look at their tiny tent and the sky full of rain, then invited the guys over for a hot meal. Dave was impressed with the kindness of the people in Alaska, but not wild about the rain. The whole they were gone it rained nearly every day. (It probably only felt that way as Ron barely mentions rain.

All four of them took a plane to Fort Yukon inside the Arctic Circle, where Dave had the pilot take a picture in his Crawford T-shirt. (The goose bumps don't show)
If anyone knows where to get another T-shirt, it's probably a good idea.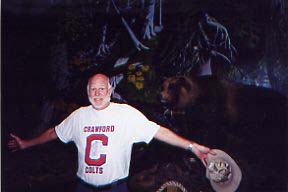 The Colt and the Bears
Sorry no Polar bear photos, but the ones enclosed are close enough. They had a good time and this trip – again – reminds me of what good friends people can make in high school and how these friends can lead you to such adventures as you could never have thought up on your own.

Hopefully they'll have another adventure. I'll keep you posted. Thanks for your newsletter. It's a fun thing!