The Adventure Continues:
The Good, Bad, and the Ugly visit the Winter Olympics
I snatched these photos from Dave to send to you. Dave Grear, Ron Kroepel and Bob Johnson, all Class of '63, traveled to the Olympic Games in Salt Lake City. Dave took his Crawford shirt and is wearing it in the Hallmark snowball photo. I doubt if the Crawford grads will outdo the Over-the-Line guys as far as exotic locales, but just getting this photo in sub-zero weather indicates that the spirit is similar.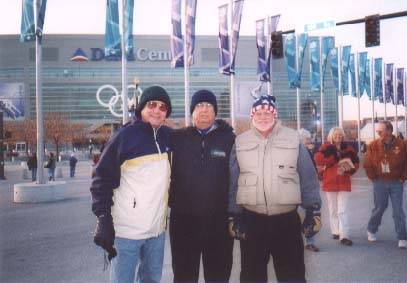 Ron Kroepel. Bob Johnson, and Dave Grear. If the three of them look cold, it's probably 'cause these California guys are spoiled -- they attended the Buick Open at Torrey Pines three days before. In Salt Lake City, said Dave, "The weather was so cold it hurt my back."

The big adventure included finding tickets for the Super G and spending all day trying to get there and back. Security was tight and crowds were enormous, but the three had fun and didn't get into any trouble -- any that they told me about anyway.

They're heading for Alaska in May. I asked for a photo of a polar bear wearing the Crawford shirt. I'll keep you posted.

Judy Grear