OZZIE ROBERTS MAKING IT


S.D. High alum still on the team

December 9, 2003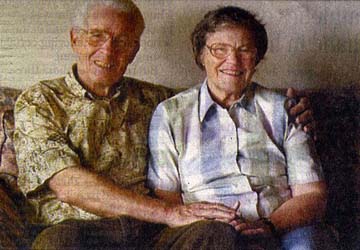 Dick and Connie Jackson agree they've weathered a lot in more than a half century together. Photo by Peggy Peattie/Union-Tribune
I was raised under the influence of the Lone Ranger, Hopalong Cassidy and the Cisco Kid.

For me, as it was for so many other youngsters of my generation, these Hollywood images were the real deal, the genuine article.

They were our heroes. They were standouts in an elite group who stood up to life – its challenges and all – and just did what they had to do.

Sometimes they'd take the ill-advised route. Sometimes they'd get hurt. And yes, sometimes they'd even get killed.

But they'd never back down and never stop looking for those other lives that could benefit from their strength.

The Ranger, Cassidy and the Kid rode again in my mind the moment that I clasped the firm hand of Dick Jackson, the honorable San Diego High School alumnus.

He's dogged and determined to help young people, especially those at his alma mater.

And when doctors recently informed him that a serious illness threatens his life, he said he had to get better because being sick interferes with the work he's doing.

Jackson's white mane tells you he's been around awhile – 76 years, as a matter of fact, and nearly 54 of those years with his wife, Connie. But something about his directness and his firm, trim frame tells you when it has come time to stand on his own, he's stood up. And to him, 76 is just a number.

The North Park native, now living in La Mesa, did some good things, athletically and academically, at Occidental College and San Diego State University.

He earned a bachelor's degree at the former and a master's at the latter. All of it was related to elementary education and fulfilling his long-held dream of becoming a teacher and a coach.

And, in fact, he labored 27 years in education, mostly in the San Diego Unified School District, where he recently retired as an assistant superintendent.

Nowhere, however, did Jackson make an indelible mark such as the one he's established at his old high school alma mater.

As a member of the class of 1945 at San Diego High, he quickly grasped the value and importance of balancing athletic and academic achievement.

He became a stellar basketball player and did far better than the average student, especially in math, his love. Later, too, he let what he learned through his high school experiences guide him in guiding kids as a teacher, coach and administrator.

"Athletics are great motivators for students," he says. "Get athletics and academics going together well in a school and the school becomes a success.

"I've seen it happen over and over again."

At San Diego High, even new arrivals know the name and image of Dick Jackson.

He's always there, getting the lowdown on kids who would benefit from mentoring and guidance from an older person with an experienced hand. Then he seeks the youngsters out and provides what they need.

In the past dozen years or so since he helped establish the fund-raising San Diego High School Foundation, he's been personally responsible for steering hundreds of kids into college and other worthwhile careers.

"He's always there," wife Connie declares.

"I've always felt I have to give something back to my old school," says her husband. "It was truly a valuable, rewarding experience."

And if Jackson's not on campus in body, he's definitely there in spirit. Three years ago, a huge portrait of him was placed on a special wall in the school library, honoring certain distinguished alumni.

But recently – about three months ago – this hero learned that he has cancer.

Doctors tell him it's the most severe form of melanoma, a kind that strikes way down past the skin, through to the bone. They also told him – the medical people did – that untreated, he would have less than a year to live; with treatment, his chances of long-term survival would be 50-50.

"Let's get going on treatment," Jackson said at the time.

He takes extremely powerful and toxic chemotherapy pills regularly. But you'd never know it.

In fact, you'd never know he is sick unless you'd listen to him talk openly about the disease with friends and other cancer patients in need of some moral support.

"I'm certainly not happy with the diagnosis," says Connie. "But I love his attitude – the way he's taking this, looking for the positives."

Like a true hero.

Copyright 2003 Union-Tribune Publishing Co.

(If you'd like to drop Dick and Connie a line, their address is 5685 Lake Murray Blvd #A, La Mesa, CA 91942-1901)