Linda Brown, '59
To Hold Publication Party April 18th, 2004
Sunday 12:30-2:30 p.m.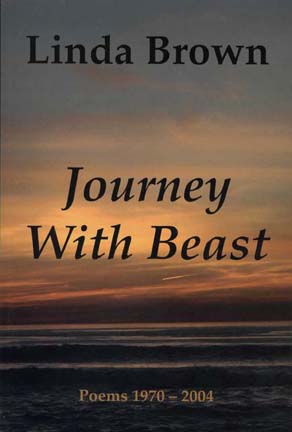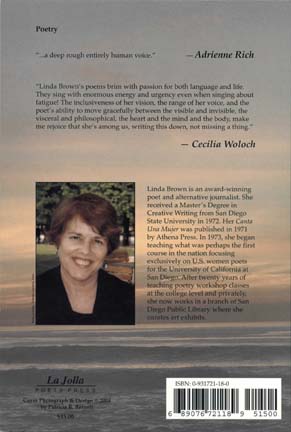 Journey with Beast: Poems 1970-2004

San Diego—The Carmel Valley Branch Library, 3919 Townsgate Drive, has been chosen as the site for the publication party of Linda Brown's retrospective collection of poems, Journey with Beast: Poems 1970-2004. The 120-page volume, carrying an endorsement by National Book Award Winner Adrienne Rich, will be sold beginning at 12:30 on the patio outside the Community Room where guests can purchase copies from the first 100 signed and numbered editions to come off the press and enjoy delicious refreshments. Journey with Beast, in the prestigious La Jolla Poets Press series, retails for $15. At this launch party, however, there will be substantial discounts for purchase of multiple copies.
The book begins with poems written on a solo trip across the United States in 1970 in a car named "Beast" the summer before Ms. Brown began graduate work in creative writing at San Diego State. The most recent poems in the book are revisions of Vietnam-era poems written in 1971 and 1983 with the insights of one looking back on that turbulent time from the perspective of 2003.
The book has poems on all themes—politics, relationships, nature, travel to India and to Paris, family members and poems inspired by art. The middle section, "Singing for Power," reflects a period when Ms. Brown took singing lessons with Howard Fried, an operatic tenor.
The program, beginning at 1:30 p.m., will feature music as well as poetry. Ms. Brown will be accompanied by Joan Kurland, singer-pianist, on the concert grand. Music selections will range from Bob Dylan to the Beatles, the Supremes to Joni Mitchell, the Platters to Hair.
"This is not an ordinary book; it is my autobiography in verse. So I wanted to do something a little out of the ordinary to launch the book. When I first heard Joan Kurland perform, I knew I wanted to sing with her." The program closes with a Kurland-Brown duet.

So far Colts Neil Eliot [Goldfarb] '59 and Lela Kerth Schlitz '60 are coming to the party. If you are interested in a dinner Saturday evening, please e-mail Neil at godot7@juno.com. If you'd like more information about the book or the party, e-mail the author at lindapoet@earthlink.net. After April 20th, the book will be sold through the author's website at www.lindapoet.com.

To get to the Carmel Valley Library, take Del Mar Height exit east off I-5, turn right onto El Camino Real and left onto Townsgate. The library is a white castle-like building with a green roof. Please park on the street or in the shopping center across the street.

If you can't make the debut party, you can buy a book prior to April 20th by sending a check to "Linda Brown" at 1968 Springdale Lane/ Encinitas CA 92024 for $18. Indicate a number between 40 and 100 and your autographed copy will be shipped to you priority mail.