1968 Obituaries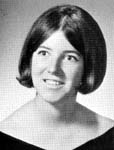 Beverly A. Butcher
Karen Sue Cochran-Reynolds
March 3, 1950-August 9, 2004
We lost Karen Monday from a short battle with cancer at Alvarado Hospital in San Diego. She was the daughter of Hugh Cochran and Billye Tucker Cochran. Karen is survived by her son, Erik Lucas of Washington, D.C.; mother Billye MacLaughlin and stepfather Capt. N.H. MacLaughlin of Pinehurst, NC.; aunt Vangie of Houston, Texas, and sister Kathy Lee of Phoenix, Ariz. She is also survived by her loving animals Charlotte, Nellie, Tucker, and Cindy. She was predeceased by her father Hugh Cochran, and stepmother Alice ( ? ). Karen was an RN at Alvarado Hospital in San Diego. She also spent much of her time volunteering her time and skills to the American Red Cross of San Diego. Not only was she a wonderful asset to the community she was a great friend and family member. Karen was a special person who touched many lives from lost animals to patients battling heart failure. She was a unique, vivacious, and wonderful human being. She touched all of our lives.
In lieu of flowers, please send donations to the San Diego Humane Society in her name.
Published in the San Diego Union-Tribune on 8/12/2004.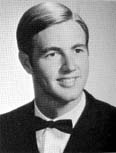 James DeHart

I remember talking to Jim De Hart a few days before he was killed in the plane crash at O'Hare Airport in Chicago, on May 25, 1979. We ran into each other in a grocery store in Point Loma and he was encouraging me to continue with my interviewing for the airlines. He was a flight attendant on an American Airlines DC-10 that had an engine drop off just after take off.



Jeannie Dendrinos Wolfarth
October 25, 1950 - January 14, 2004
A proud-to-be native of San Diego, Jeannie was born October 25, 1950 to the late Lambros and Constance (Dena) Dendrinos. Jeannie Wolfarth was the granddaughter of the late James and Bessie Stefanides and niece to Peter and Tasoula Spartalis of Redondo Beach, Calif., with first cousins George and Chris Spartalis, also of California. Her first cousin on her father ' s side is Minas S. Manias of Vathy, Ithaca. Her grandfather was a partner in the Seven Seas Locker Club downtown San Diego. Her mother worked at Food Basket on Fairmont and University Avenue for over twenty years. Jeannie ' s family loved San Diego and her roots here were strong. Jeannie was a 1968 graduate from Crawford High School. In those days, she was known as the "Cher" look alike. After high school, she attended Pacific College where she became proficient in medical transcription. In the early seventies, Jeannie lived in Ocean Beach and enjoyed all that the beach life had to offer. She met her loving husband, Bruce, of over twenty-five years, while walking at Sunset Cliffs. Bruce and Jeannie were married August 5, 1978 at the La Valencia Hotel in La Jolla. Jeannie and Bruce headed off to Alaska after they were married and spent almost three years there before returning to San Diego in 1981. Jeannie started Medi-Type, a transcription service that met all the transcription needs of over twenty different medical offices and hospitals. One of Jeannie ' s most special joys was watching her daughter, Ariana, now fifteen, grow to love animals like she did. Jeannie saw Ariana take a third place ribbon in her first major three-day equestrian event. Jeannie was very proud of her daughter Ariana and loved to watch Ariana ride her horse, Pawlee. Jeannie was very proud of her Greek ethnicity. Learning from her mother and her Yia-Yia, Jeannie became an excellent cook of Greek foods. Her domathes, lemon soup and Greek chicken were wonderful taste treats. Her house was always filled with the scents of great food and the laughter of close friends. Jeannie touched so many lives with her sense of humor and her outstanding ability to lend an ear to her friends and perfect strangers. She made a routine of working out at Valley Athletic Club in El Cajon even when her health was declining. Even though Jeannie was often in a great deal of pain, she did not complain nor want anyone to feel sorry for her. Therefore, her almost seven year bout with breast cancer was kept from most. Her husband Bruce quit his work and cared for his wife Jeannie during this period. It was not until the last week of Jeannie ' s life that San Diego Hospice stepped into the picture. Jeannie died peacefully January 14, 2004 at her home in Singing Hills. Close friends, family, her animals, and the wonderful San Diego Hospice staff were present at her passing. Jeannie would want everyone to celebrate her life as she knew it. Committing herself to God, healthy food and exercise, love of San Diego, family, friend and her animals were Jeannie ' s fingerprints on life. We will miss her beyond imagination.
David Denlinger *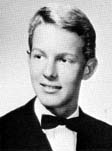 Michael Frazier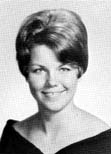 Sherryl Harper

Kelly R. Hart, Jr.
Dec. 1, 1949-May 13, 2002
"John, I don't know how you collect the obits, but I thought I would send this on to you. Kelly Hart, class of 1968, passed away May 13, 2002. Kelly played French horn and was in the marching band, and was in ROTC. After high school he had several occupations including beekeeper and fireman. He took many classes over years in college, and won several awards in forensics. His teachers at Grossmont College recently created the Kelly Hart Tenacity award to be awarded to a speech/communications student each year who displays Kelly's never-give-up attitude."


Robert Hoke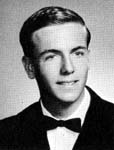 John Holewinski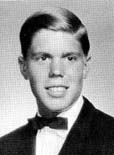 William Johnson

Bill passed away February 3, 2000, having been diagnosed with cancer the previous November. He graduated from San Diego State with the intention of becoming a teache, then decided to pursue a law career and graduated from Western State School of Law. He was a partner in the Solana Beach law firm of Weeks, Kaufman and Johnson. He was active as a Boy Scout leader and baseball coach, and was instrumental in the establishment of the Crawford High Foundation. He is survived by his wife Camille, daughters Melissa Johnson of Fort Bragg, Brooke Johnson of San Diego, son Seth and mother Doris of San Diego.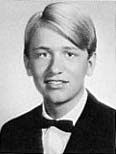 John Theodore Kanagy
December 29, 1949 - October 18, 1993

Our loving son gave up a brave fight with his mother and father, Warren and Dottie, holding his hand. With a tear in his eye he kissed his precious Holly, of nine and a half wonderful years, goodbye. John was a godly and spiritual man who loved life and loved helping people – especially children. John leaves behind his beloved wife, family and many who will remember him fondly. As long as life and memory last, love will always live in our hearts. The family wishes donations be made to the Cancer Society or Children's' Hospital. (Taken from the San Diego Union, October 21, 1993)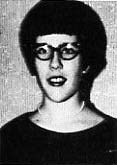 Barbara Kidder

Barbara Kidder died in an auto accident while we were still at Horace Mann -- Susan Weetman Belair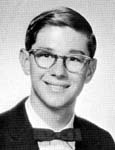 Larry LeVerne Larson
Larry died after a three year fight with colon cancer in Sept. 2003. He received his BS from SDSU and his PhD in Entomology at UC Riverside. He spent his career as a research scientist with Dow Chemical and Dow AgroSciences. He was happy and successful in his work and his profession. Even during his chemo he still took on the presidency of the Entomological Society of America while still working. For those who knew him well they would not be surprised of his drive to follow his passion and trying to make a difference. When his job took him out of the state in 1980 he always looked forward to returning home and retiring in San Diego. He leaves behind his spouse of 27 years and two wonderful daughters in their late teens.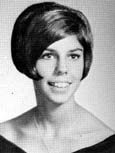 Jeanette Lechien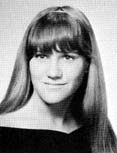 Suzanne Matheny Garrison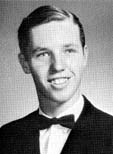 Gordon McKee, III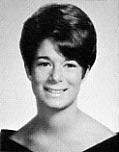 Donna Penn Landes
I believe passed away a few years ago of cancer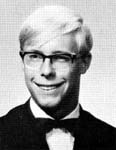 Kip Petersen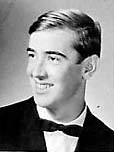 Don Schietzelt
I came across your list of "lost" class members from Crawford High, class of 1968 unexpectedly while doing an internet search. My name is Amy Schietzelt and I am Don Schietzelt's youngest daughter. For your records, I can let you know that he passed away in January 1984 in Delaware. He was a Seventh-Day Adventist pastor and a wonderful father (married for 13 years with two daughters). Please let me know if I may be of any other assistance.




Victor Vega *

I think Victor died in an auto accident in 1964 or 1965 -- Susan Weetman Belair




Arthur Waggoner





Roger Wehking

My brother passed away on January 18, 1990 at 39 years of age. He was being treated at Scripps Clinic in La Jolla for Pneumonia. He was employed by Cubic Corporation as an engineer.




Greg Whitehouse





Wendy Woods



Robert Zimmer *

Robert Zimmer died in 1993 of a heart attack. He had owned Bob's Auto Body in El Cajon since graduation.