My Friend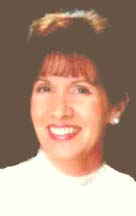 Kathy Cuvala Dronenburg
(Photo courtesy of Dick Dronenbug)
It is with much sorrow -- and yet a true belief that she is in a better place -- that I tell you that Kathy died Saturday morning, March 9, 2002. She was my friend, then companion, advisor and mother of our kids for 38 years, very short years. A wonderful person who knew people well after only a few minutes. There was never a person of substance that did not admire and respect her after they met her
First diagnosed with 4th stage Breast Cancer on December 15, 1999 she fought hard and went into full remission in May 2000. But in May 2001 she had to start the fight the again when the cancer came back. After hip surgery and radiation, and then brain surgery and radiation, she started trying new types of chemos over a 5 month period. On February 26 she ran out of strength and was not strong enough to receive anymore chemo.
She died, as she wanted it, in her sleep in our bed with me next to her. We both believe that we will be reunited in heaven in a twinkling of an eye. And that she had suffered too much and it was time for her to go. I will miss her extremely but I rejoice in the knowledge that she is again pain free and with our lord and savior, Jesus Christ. She wanted everyone to believe as we believe that: " I tell you the truth, whoever hears my word and believes him who sent me has eternal life and will not be condemned; he has crossed over from death to life." John 5:24
I want to thank you for all your prayers and support. We both really appreciated it and felt strong knowing you were supporting us.
Return to Kathy Cuvala Dronenburg