Bill Paxton '66 sends this photo of a Mother's Day Concert at Aztec Stadium, May 14, 1967 featuring Tarantula, Lee Michaels, Canned Heat, Grateful Dead and Santana. "Nobody knew who Santana was," says Bill, adding "Just behind the scoreboard is my friend's house that we were on top of to see JFK."

I was lucky enough to be at that concert at Aztec Bowl and one thing I remember (yes I do remember some things) before Santana came on and stole the show with the whole field full and jumping, Bear from Canned Heat was laying on his back on stage smoking a joint daring the cops to do something about it 'cause as he said "there are more of us than there are of them". And then this last year I got to see Santana up in Albuquerque. I emailed my sister Jennifer about it and how I used to see him in little bars in TJ. I was a little surprised to hear that she had seen him in some of those same bars. My surprise was 'cause she's 3 years younger and had sneaked across too. Those were some fun times, huh!!!!! Don Tineo '63

The correct date for the Mothers Day concert was May 11, 1969, not 1967. (See article below from The San Diego Reader) I was there and yes, it was a full day of sun, good music, and more -- Frank Klepach '64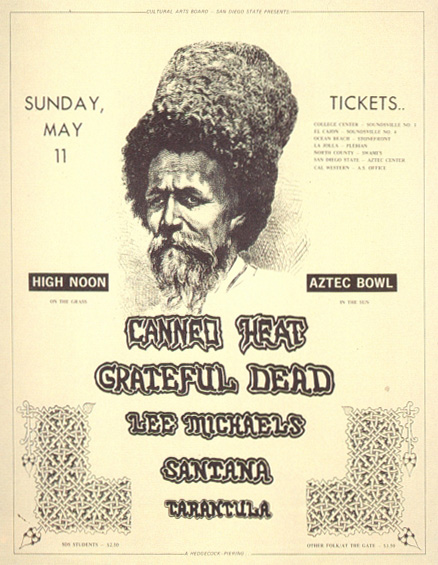 The Grateful Dead headlined SDSU's Spring Fling concert at the Aztec Bowl. Held on Mother's Day, the show included Canned Heat, Quicksilver Messenger Service, Lee Michaels, Tarantula, and Tijuana-bred Carlos Santana. Jerry Garcia performed "Morning Dew," and Ron "Pigpen" McKernan (four years before he died) sang lead on a 20-minute version of "Hard to Handle." Pigpen also fronted the band for "Good Lovin'," "Good Morning Little Schoolgirl," and "Turn on Your Love Light," the last highlighted by a jam with Santana's percussionists and singer.
One of Spring Fling's promoters was future mayor Roger Hedgecock, who at the time aspired to create a local concert scene similar to San Francisco's. "There was a lot of opposition from the city," he recalled in a 1980 interview with Kicks Magazine. "But all the predictions of total chaos and calamity did not come true." Hedgecock recruited the local chapter of the Hell's Angels to provide security, sealing the deal with a complimentary case of Jack Daniel's. "I got a note back from them thanking me for the case," according to Hedgecock. "They drank it all at one party."
Space was provided for arts-and-crafts exhibits, as well as a booth for the city's brand-new free clinic. "Even the Black Panthers had a booth," said Hedgecock. Much of the show was aired live on KPRI-FM, and tapes of the broadcast still circulate among tie-dyed and squinty-eyed collectors.